OUR PEOPLE
Karolina Roslonkiewicz
Programme Manager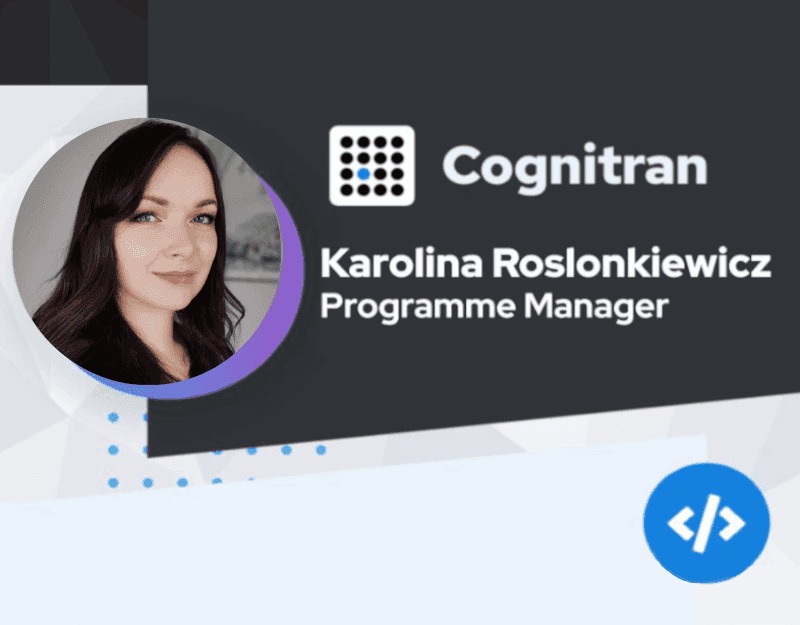 I never imagined when I first started at Cognitran as an Office Administrator I would eventually be a Programme Manager, managing a Global account.
While finishing my Master Degree in Logistics at the University of Szczecin I applied for a position as a part-time Office Administrator at Cognitran. After completing a successful interview I started in this role looking after recruitment, expenses, arranging trips abroad.
Right from the start I became aware that I had joined a company with a desire to grow and would encourage individual ambition; I very soon became a full-time member of staff.
After a period of time, an opportunity arose for the position of Project Support. I felt this was a natural progression from my Administrative role and I was encouraged by colleagues to develop my interest in Project Management by moving into this position. I jumped at the opportunity and as Project Support, I worked closely with an experienced Project Manager providing daily status updates, resource and financial reports, daily communications and had my initial interactions with customers.
It was during this time, both Cognitran and our customers began their Agile transformation and I became versed and qualified in the Agile methodology. As our customer base and amount of work increased, this necessitated an increase in the number of Scrum Masters required. As I now had the experience of working with our existing clients and understood their processes, I was again offered a career progression, as a Scrum Master which I readily accepted.
This was an exciting time as we rolled out Agile practices across the organisation. I am proud to have been a part of this transformation from the beginning this continues to this day as we refine and evolve our Agile strategy to best suit the needs of Cognitran and its customers.
Finally today, as is the way at Cognitran, I'm in another new role; I am now Acting Programme Manager where I look after several teams including Scrum Masters, Developers and Testers.
An average day for me is full and varied, starting with stand-ups with the various teams, meetings with customers, followed by time when I focus on financial forecasting, resource management and assist with development strategy for future growth.
The interesting part of my job is not only having to manage multiple projects, but to balance the needs of our customers with those of Cognitran.
During my time at Cognitran, the number of staff in Poland has increased to over 50 people and we have also opened another office in Poznan. This expansion was necessitated though the development of business with both existing and new customers.
I continue to learn new skills whilst progressing my career within a great team environment. It is good to know, should I find an area of interest which I would like to further develop, Cognitran as a company and the individuals around me will help me nurture that interest. I have always had that support and encouragement and similarly I am now able to offer the same support to others.